Careers at PiP
Careers
The atmosphere at Performance in People's HQ is always buzzing, and there is a strong social culture which every employee is welcomed into. We believe in impromptu bbq's, on-site yoga, funny awards, serious rewards, getting the job done and having fun doing it!

We are a progressive and innovative organisation that excels in delivering sales and customer service solutions to an impressive and enviable list of clients including some of the world's leading brands. Since our formation in 2000, we have positioned ourselves as one of the UK's leading providers of our specialist range of services. With over 90 head office staff and counting, why not see if we have a role that's right for you below?
Why work for us
PERSONAL DEVELOPMENT

People are the key to our success, each bringing a diverse set of skills and experience to the table. PiP want all of our people to have the opportunity to stretch themselves, learn new skills and build invaluable knowledge and experience during their journey with us. Over 90% of our management team have started their journey and over time progressed into new roles that play to their strengths. Due to our unique company and products, experience isn't always expected, we help new employees learn from scratch with an extensive training plan. We want our people to feel they can reach their full potential with us.
"It's exciting when our employees are achieving things, they didn't realise they were capable of"
Natalie started in 2009 as an Account Management Apprentice. Throughout her time here, she has progressed through the company with various roles such as Programme Manager, Account Director and many more. After returning from maternity leave in April 2021, she has most recently been promoted to Corporate Service Director and forms part of the Senior Management Team. A little bit about Natalie – She has two little boys called Arthur and Tommy and lived in Marbella for over 2 years before starting at PiP.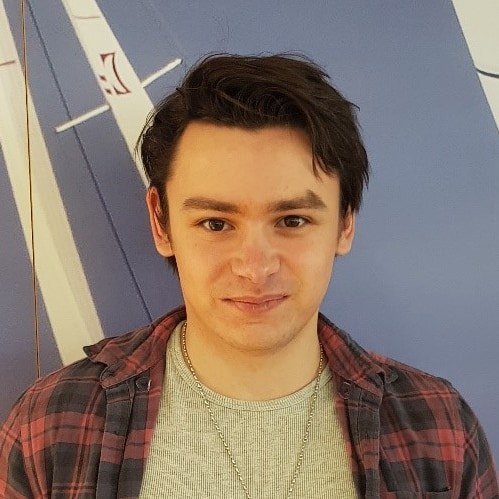 Kieran started in 2018 as a Quality Controller, he shortly became a Coordinator after 6 months! Kieran has since progressed even further and is now a Team Leader. A little bit about Kieran – He is lead singer and plays the guitar in a band called Cryomancy.
Lucy joined as a Visual Quality Controller in 2014, after 1 year she progressed to a Visual Coordinator which gave her the necessary experience to be successful in attaining her current position as Visual Team Leader a year and a half later. A little bit about Lucy – She has a little boy called Bowie and has a degree in baking!
Ryan joined in 2013 starting as a Quality Controller. In 2014 Ryan was promoted into our Operational Allocations Team where he worked as a Coordinator. His experience in product development lead to a promotion in 2016 progressing him to a Team Leader. Since 2018 Ryan has been an Account Director. A little bit about Ryan - He was a Police Constable for Hampshire Constabulary for 3 years.
Chantelle previously worked in the hospitality sector and changed career in 2021 by joining us as a Quality Controller. After just 8 months she was promoted to a Visual Coordinator. A little bit about Chantelle – She bought her first home at the age of 20 and loves to watch true crime dramas.
Alex is our Chief Operating Officer (COO) who joined back in 2007, over the years Alex has climbed the ranks from Quality Controller to Operations Manager, Services Director and a few in-between! Alex is a crucial part of the Senior Management Team who works closely with and manages our operational Team Leaders. A little bit about Alex - He used to play beach soccer for England before working at PiP.
Great place to work
PiP is committed to making our company a great place to work, it is at the core of our business. Creating an environment that encourages fun and friendship is an important part of how we work and has contributed to the successes and growth we've experienced. We strive to introduce new perks and improve the environment our staff work in constantly. We are the only Isle of Wight company to have been recognised in the Sunday Times top 100 best companies to work for on 3 occasions! Here are just some of the perks we offer...
Regular social events
Unique meeting pods
Themed offices
Birthdays off
Increased holiday
Random treats (such as ice creams, hot chocolate stations, pizza days)
BBQs & beach rounders
Christmas closure
Relaxed dress code
Company fun days (SOU)
Charity days
Our Mission
Our purpose is to provide a range of industry leading services that result in each of our clients improving the service delivered to their customers.
Join our team
Don't see the right role for you? We are growing business so chances are, we might have the ideal vacancy in the future! Why not send a speculative application by filling out the form below.