The latest UK Customer Satisfaction Index (UKCSI) report, published in July 2023, details the state of customer satisfaction in the UK.
*Customer Satisfaction is at the lowest score for 8 years
*The latest results show that average customer satisfaction in the UK has fallen compared to last year and is at its lowest level since 2015. There are of course many factors that have influenced this decline – all detailed in the UKCSI report. However, there was one key element that caught our attention…
*Image source: https://www.instituteofcustomerservice.com/research-insight/ukcsi/
"We want organisations to have friendly and helpful staff"
*In the UKCSI customers are asked to select the top 3 things the organisation they dealt with should focus on, in order to improve customer service. *From the perspective of customers, one of the leading priorities for organisations to improve are employee behaviours. Specifically, 'friendly and helpful staff'.
*Image source: https://www.instituteofcustomerservice.com/research-insight/ukcsi/
How can organisations improve employee behaviours?
When we start talking about behaviours, it can quickly become 'grey' and unclear. It's an extremely subjective topic – and many people will have their own opinions on 'what good looks like'.
We (Performance in People 'PiP'), have invested and spent years developing an objective way to measure staff behaviours.
We started by establishing the 6 key behaviours that impact most on the customer experience. Those were; Friendly, Enthusiastic, Professional, Interested, Attentive and Helpful.
But what, specifically, makes a 'Friendly' person? How do you measure 'Professionalism'?
We had a lot of questions and conducted a lot of exploratory research to find out.
We created descriptive explanations to each behaviour and then continued to put together an extensive list of positive and negative contributing characteristics, for example;
'Smiling' is a positive characteristic for the 'Friendly' behaviour.
'Flat voice tonality' is a negative characteristic for the 'Enthusiastic' behaviour.
'Smartly presented' is a positive characteristic for the 'Professional' behaviour.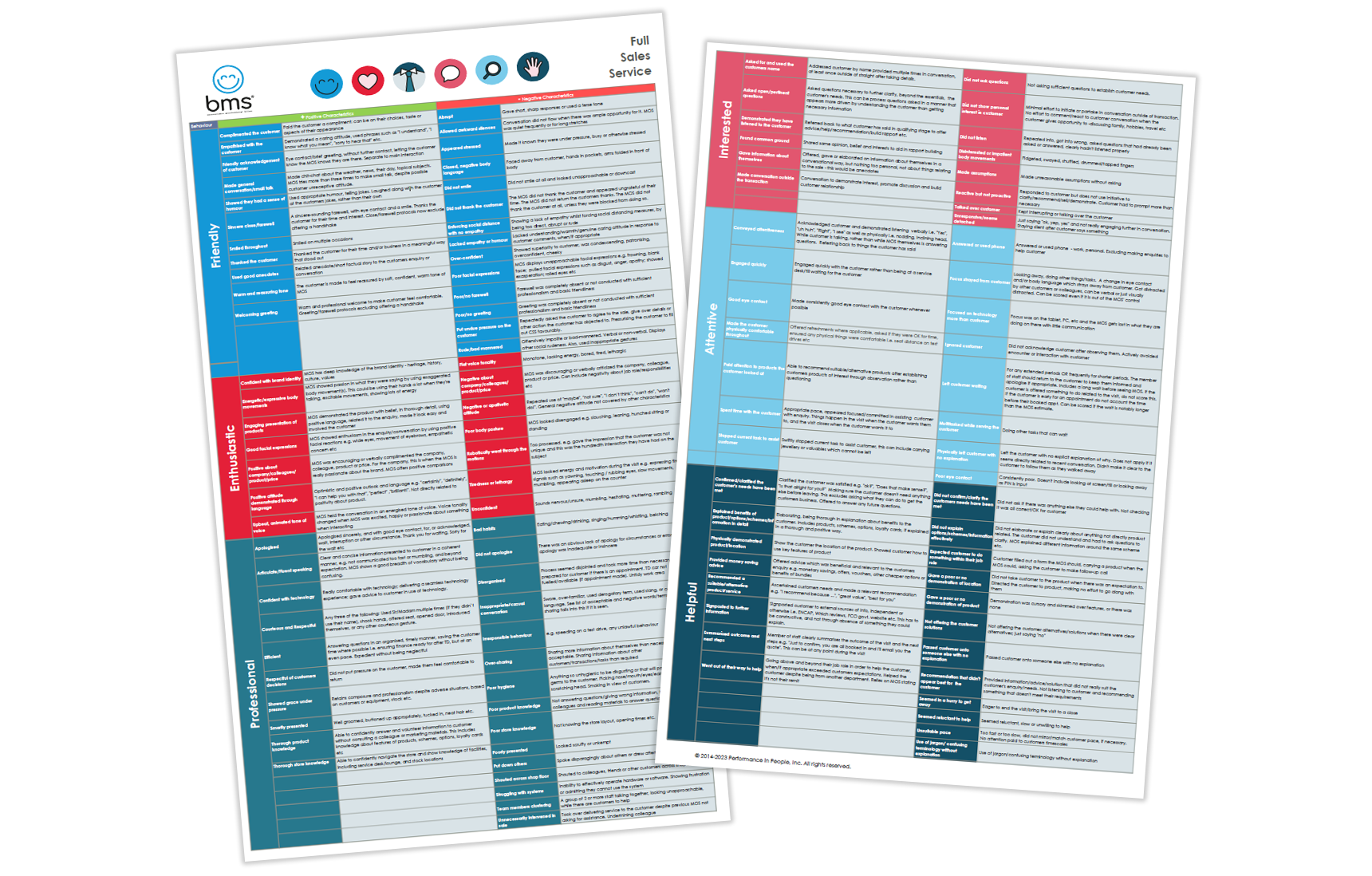 100+ characteristics library
In total, we now have a library of over 100+ positive and negative characteristics for our 6 key behaviours!
We continued to evolve and fine-tune our methodology to include definitions for each characteristic too, and finally an effective 0-5 scoring mechanism.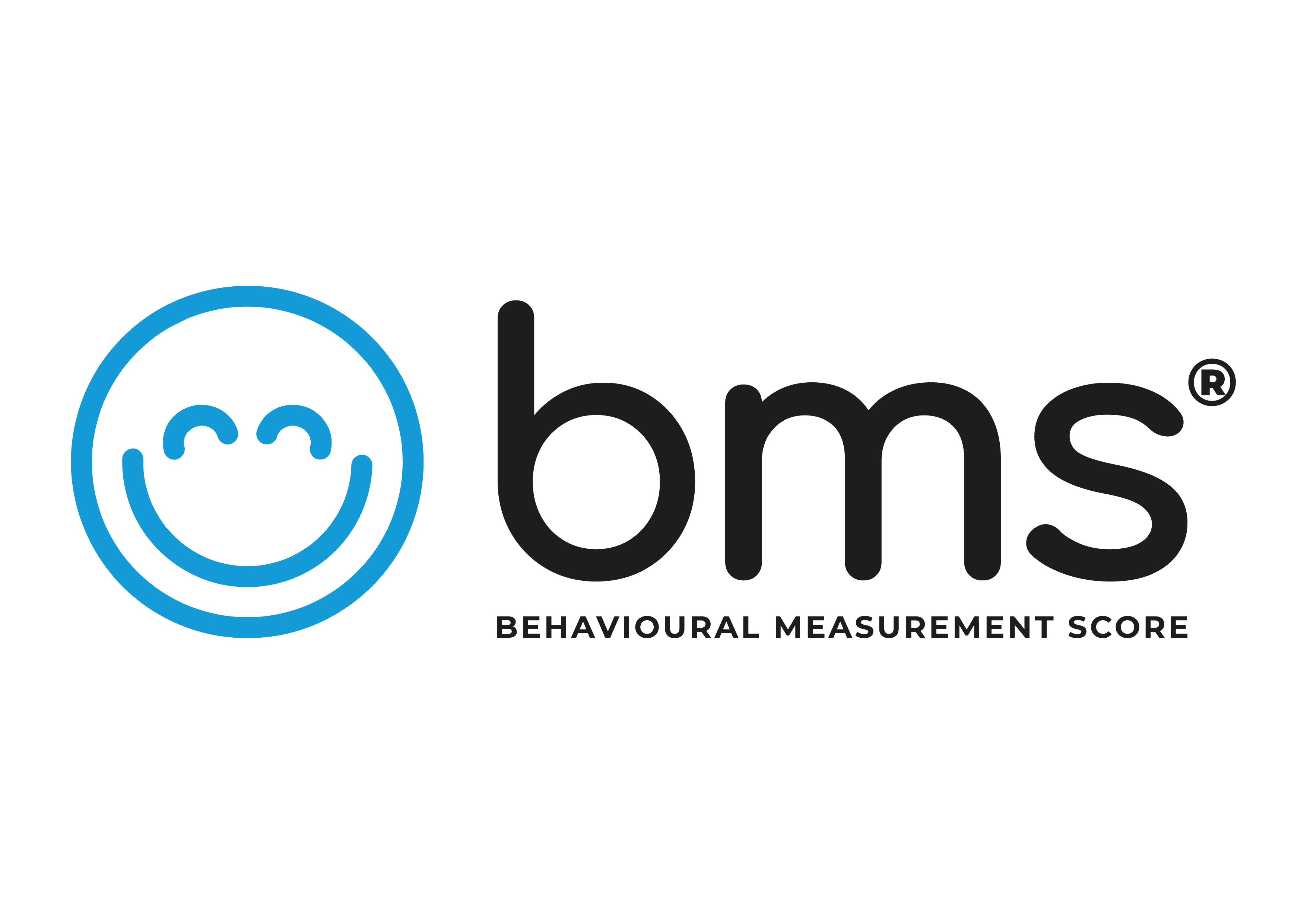 And so, the Behavioural Measurement Score® (BMS®) was born!
Which has since won multiple awards, and over 60+ organisations are now using BMS® to measure and develop their customer experience.
BMS® as a tool, in conjunction with our BMS® Direct workshop (for front-line staff), and a great coaching platform (like our CBX course for Managers) – provides organisations with a robust, trustworthy and insightful way to revolutionise their CX strategies.
Check out our latest case study from Audi UK, detailing how CBX and BMS® training workshops increased their BMS® scores and ultimately, the propensity of customers to purchase! Click here to read more.