On Saturday 10th December, Performance in People (PiP) celebrated their annual Christmas party at the stunning Landguard Manor in Shanklin where everybody enjoyed an open bar and an awesome DJ! This year was a black-tie event to suit the grand venue, it was a full night of fun including the world cup game, casino tables of blackjack and roulette, a raffle prize-draw, a hilarious challenge, funny awards and a late-night chippy station!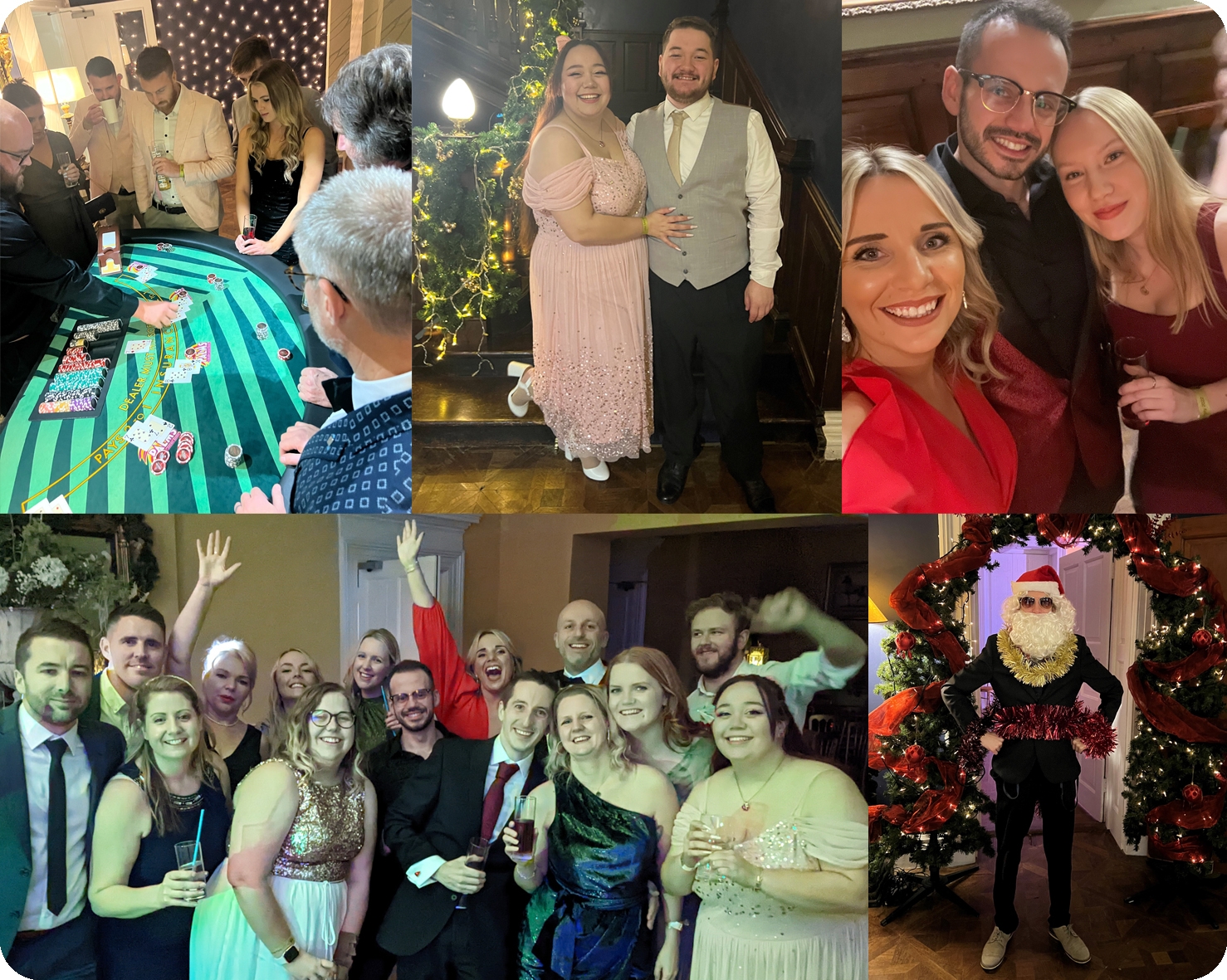 Funny Awards
It wouldn't be a PiP Christmas party without an awards ceremony! Each team put forward nominations for colleagues based on hilarious circumstances that happen throughout the year. Here's a selection…
Big Spender: During PiP's trip to London for State of the Union in October, Charlie spent £500 on a Lego kit!
Mr Happy: Our lovely Sales & Marketing Director Lloyd Rae was given this award for always smiling and being in a great mood, especially in the mornings.
Blonde: Emily was awarded the iconic 'blonde award' for some amazing comments she has made throughout the year.
The Dumbass: Nathan received this award for thinking there was an actual shredder in the Shred-it bin... he even asked the guy from Shred-it about it when he came around to empty the bins.
Happy Helper: This award went to Alice for being a brilliant helper whenever we put activities on at PiP and always putting herself forward to help out.
Prizes
PiP also organised a random raffle draw on the evening. Staff who w
ere lucky enough to have their number drawn, won prizes such as an Air Fryer, Cocktail Hamper, Afternoon Tea and Spa for 2 at Lakeside Spa Hotel, a bottle of pink Champagne, a bottle of Mermaid Gin, a 2-course meal for 2 at Artisan Cocktail Bar and Grill, and a £40 Island Foods Voucher.
We also had a team challenge headed up by our CEO Mike and COO Alex, who chose Charlie and Scott to be their teammates. The pairs went head-to-head to swing a ball into a cup that was tied around their waist for the chance of winning a £100 Amazon voucher. Watch our video below to find out who won…
2022 Highlights
As Christmas fast approaches, Performance in People HQ is beginning to wind down and we've been looking back at the past 12 months.
Coming out of the Pandemic was an uncertain time for all but we feel like 2022 started resembling some kind of 'normality'. People were back in the office, which gave us a chance to have some fun, whilst getting the job done! Here are just a few highlights from 2022…
Merry Christmas from the PiP Choir
Introducing the world famous PiP choir with 'The 12 days of PiPmas'...